Like any other folk dance of India, Bihu is a unique traditional dance that portrays the spirit and culture of the region. Bihu celebrates the commencement of the harvest season in Assam with much joy and fanfare. The dance costume worn by Bihu performers are uncomplicated pieces of clothes that can allow the free movement of limbs and hands. The draping styles of these costumes are usually very simple and uncomplicated, but the clothes used for this purpose are really striking with matching jewellery and other ornaments.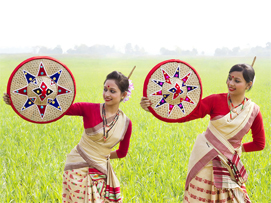 Bihu is performed both by male and female members of the community. Sometimes they dance together, while at other times the dance moves are synchronised as per the gender. The male members of the troop wear a dhoti, which is usually made of cotton. The dhoti is worn in traditional drapes to cover the lower portion of the body. The gamocha is used as a head band or sometimes tied in the waist to give a more vibrant and colourful look to the attire.
The women performers of Bihu wear a traditional lower body garment known as Mekhala, while a chaddar is used to cover the upper portion of the body. Besides the mekhala and Chadar, women also wear jewellery and put flowers in their plaits to celebrate the spirit of spring. The colour of the flowers usually synchronises with their dress, in order to give them a complete look.